My Promise to You
Choosing the right home inspector can be difficult. Unlike most professionals you hire, you probably won't meet me until your inspection appointment–after you've hired me.
Furthermore, different inspectors have varying qualifications, equipment, experience, reporting methods, and pricing. One thing that's certain is that a home inspection requires a lot of work and depends heavily on the individual inspector's effort. If you honor me by permitting me to inspect your new home, I guarantee that I will give you my very best effort. This I promise you.
As a Licensed Contractor, I can provide the expertise you need.
A Cut Above The Competition
Using Aerial Drone Photography we can take clear and detailed photos from above your home or commercial structure. This is especially helpful when you are in need of a clear view of the entire property or when you need an inspection of a roof that cannot be accessed safely.
With the use of state of the art technology, we are able to locate areas of moisture and heat loss in your home that can be invisible to the naked eye. This tool can prove vital for diagnosing moisture damage or electrical issues throughout your property.
Professional Reporting Software
By utilizing the latest electronic reporting software that the market has to offer, you get the clear and crisp results of your home inspection that are easy to understand – and you get them FAST! Most reports can be completed within less than 24 hours.
What Really Matters in a Home Inspection?
Most of your inspection will be maintenance recommendations, life expectancies for various systems and components, and minor imperfections. These are useful to know about.  However, the issues that really matter will fall into four categories:    
major defects.
things that lead to major defects
things that may hinder your ability to finance, legally occupy, or insure the home; and 
safety hazards, such as an exposed, live buss bar at the electrical panel. 
InterNACHI's $10,000 Honor Guarantee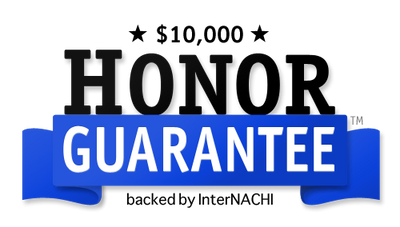 InterNACHI's Honor Guarantee is valid in all of the U.S. and Canada.
InterNACHI is so certain of the integrity of their members that they back us up with their $10,000 Honor Guarantee.  
InterNACHI will pay up to $10,000 (USD; maximum collective aggregate) for the cost of replacement of personal property lost (and not recovered, restituted or insured) during an inspection and stolen by an InterNACHI-certified member who was convicted of or pleaded guilty (or no contest) to any criminal charge resulting from the member's taking of the client's personal property. Claimant agrees that the exclusive venue for any action against InterNACHI arising out of this Honor Guarantee is the District Court in Boulder County, Colorado.